Best Golf Towels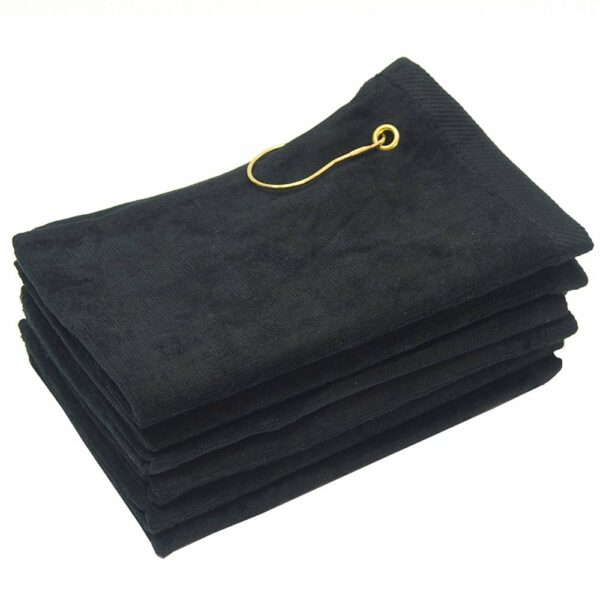 Sports make you stay physically active
Physical inactivity has been snowballing at a high rate. With everything getting digitalized and the technology game on a boom, staying physically active has become a task in our every day to-do list. People are no longer active and their lifestyles have become sedentary. Researchers have shown that due to the laziness of men and women, obesity has become very common. Children are now more interested in what the new gadget will be about rather than having an interest in where the football court is being built.
We need to have a healthy habit in this era to keep track of our health. Playing sports has always been healthful and people who have a passion for it, never step back. Some well-liked sports such as swimming, football, baseball, and tennis have been popular games. Sports make your whole body work out. It makes your heart beat fast and your muscles move. Playing sports will also make your bones stronger, reduce blood pressure, and maintain sugar levels in your body.
If you are not active during the day, try to make a habit of working out for at least 15 minutes to start with before hitting the bed. Think of it as a runway from the laziness and for the sake of your health, a strong heart, and strong healthy bones. 
There are many sports out there which may seem very simple, but has an extra amount of burning calorie opportunity in them. Golf and Bowling, for instance, are taken very lightly since these games have been assumed that have less physical activity and are more of a game of mind and concentration. 
How playing Golf makes you stay fit
Golf is a game played on a large open field. Golfers play with their clubs and hit their golf balls into different holes in the field. They have specific strokes and very calculated swings involved in the game. It seems like an easy game, but if someone tries it for the first time, it takes a little time to get the hang of it.  
Golfers do a proper warm-up before their game begins. Their back and hip muscles, wrists, hinges, and neck muscles all get involved when they hit the golf ball to play that hole at 500 meters. There are specific golf exercises on their everyday agenda. 
On a normal day, a professional golfer will do a round of exercises before he gets on the field. The work out will include some pushups, dumbbell lunges on each leg, alternate squats with some leg presses, reverse lunges, and some crunches. 
Carrying that heavy golf kit in the field, swinging the club, and walking in the golf's open area goes to moderate to more intense physical activity during the game. A golfer will walk for up to 4 miles when he has played a single round of golf. That alone is a good physical activity to remain fit and active. 
A Golfer's Habits
A sportsperson is different from person to person. You might find one with a huge passion for his game and on the other hand, there might be someone who just doesn't have the game energy. Golfers are a different kind of teammates.
They are honest, they have a passion for their game and nothing can stop them if they have a game scheduled even if it is right after sunset. Great sportsmen are always honest and fair to their game and they have a habit of sticking to the rules and not going against them. 
If a sportsman has a goal in his mind and plays with a purpose, then the whole game is directed to that specific goal and every hit will be a step towards achieving it. Golfers are also very specific about the clubs and their golf kit. 
Your Golf Kit
Picking out the perfect golf bag for your game can be overwhelming. There are many kinds of golf bags available in the market. Some are trolley bags while some golf bags are pencil and stand bags. You need to be sure that your golf essentials are placed in the right bag which suits your personality and your game as well. A Golf bag or a Golf Kit contains the following things.
Driver
Three wood
Hybrid
Gap wedge
Sand wedge
Putter
Golf towels
Clubs
Tees
irons
All these things have their importance and place in the golf bag. Like the putter is a club which every golfer will carry, or a hybrid club where long hits are required is used. One of the simplest things that a golf kit has is Wholesale Golf Towels. They may look like regular towels but they are specially designed for this sophisticated game and no golfer would be without it. 
Why should I carry a Golf Towel in my bag?
It might seem that a golf towel will only be used for cleaning your hands and face but a wholesale golf towel has multiple uses in the field and also during the game. Go for the white ones or a nice bright colored towel can be completely your choice, but it is a must-have item in any golfer's bag. If you don't have a golf towel in your bag, it may result in hitting poor shots and sweaty hands. 
The main reason to have your wholesale golf towels with you at all times in your bag is that it is used for cleaning the clubs. When a golfer swings the club, it usually gets dirt on it which needs to be cleaned after almost every hit. Having any kind of dirt on any one of the clubs will make the other clubs get dirty too.
The cleaning session takes place after every swing. Keep in mind that if the club is dirty and you have swung it, the flight path of the ball from the club will have an effect on your game and we certainly do not want that. If a professional golfer needs his shots to be as accurate as possible, he needs to have a golf towel in his bag at all times. 
Other uses of Golf Towels
Golf is played under the scorching sun in an open field which may result in tiredness and dehydration. Golfers are always equipped for their game. They know what is important and what needs to be carried with them at all times. After a long game, the golfer will need a towel to wipe away the sweat from his face and hands. A towel is a freshening tool for the golfer.
Golf gears are everything to a golfer. They take care of them by looking after every tiny detail. A golfer is aware that his golf towel is no less than a gold towel. A golfer cleans away the filth from his clubs and balls using his wholesale golf towels. If the club isn't clean or has some moisture and dirt on them, it will get difficult for the golfer to play at his best.
Golf towels can also be beneficial in bad weather conditions. Hot weather can be a distraction for the golfer but it is something that cannot be overlooked. A wet golf towel can be wrapped around your neck and it will support you fight the heat. Have a game on and you didn't expect that rain to pour? Keep the golf towel on your head and it will save your face and eyes from the water. 
Golf towels can also be damped and can be used as a good hack to cool off, specially if you carry your golf kit on your shoulders. Always keep some extra bulk wholesale golf towels in your bag because they are never enough. Keep one for your face and hands and maybe one for your pieces of equipment. Keep an extra one inside your bag just in case you forget to keep the towels, you'll know that you are not going to mess up the game. 
Getting the right Golf Towel
It might seem that getting a golf towel is an easy job but in reality, it isn't. A golf towel has to be of good cotton or a microfiber material and should not be of some cheap value. The material should be durable and absorbent as well. A golfer needs a dry and clean club when he is mastering at his game. 
The towels must be able to get washed multiple times and remain the same. The thickness of the towel shouldn't be compromised, because you need a towel to be long-lasting, to be able to absorb the sweatiness and also clean off the dirt from the gears.
Golf towels are also on retail but they can also be purchased on wholesale. The more you buy, the lesser their price will be. Grab some in wholesale and keep them in your house for not having the hassle of buying a golf towel now and then. It is always smart to have some extra ones, maybe your golf partner or any other friend is out of towels then you can always offer yours. 
Types of Golf Towels
Some people often confuse themselves between hand towels and wholesale golf towels. Well, they both are different and have their purposes and usage. Although, both are used for drying out your hands and face the materials vary.
Hand towels and wholesale bulk golf towels are found in cotton fabrics. The loop is such in both the towels that make them super absorbent and soaks the water from your skin quickly.
Best golf towels are made out of 100% cotton which is also very popular. The towels are attached to the golf kit and it is very convenient for the golfer to attach and detach the towel whenever he doesn't need it. 
Another material known to golfers is called Pima cotton. It is long-lasting and strong and does not tear off easily. It will save you money too because it doesn't need a replacement very often. Pima cotton can be used in cleaning off your golf gear and equipment. It will remove any kind of debris and dust easily. 
The towel has a clip that makes it get attached to the bag. It is so easy to use when it is just there attached to the bag. If you happen to miss the clip, separate clips are also available online for wholesale golf towels for your ease. Rings are also an option to attach the towel to your golf kit. 
Customize your towel
Customizing something to one's choice is always fun. Choosing the right color for your towel can be for example something to start with. You can match your towel with your golf kit, or match it up with your dry fit shirt. If you are lucky enough, you might also find some matching gloves. 
Many online websites and vendors are there who will be more than eager to print your name or the logo of your brand on the towels. It is very easy to get it transferred on the fabric. People sometimes also get a cool, witty saying printed on the towel so when the game gets tough, the towel might help to bring things on a lighter note. 
Have a favorite sports team or your celebrity golfer crush? Get their name printed on the towel and make it extra special. 
Many people get their towels' borders embroidered with contrasting colors with their towels. It adds a nice color to that plain towel fabric. The towel also looks attractive clipped on your bag if it is in bold hues and different patterns.
Look for the towel that best suits you and your personality. Do not go for really expensive ones and empty your pocket in just one purchase. Wholesale Golf towels should pass the absorbency, convenience, size, and price test when you purchase it. The rest of the things can be adjusted according to your needs. 
When should you replace your towel?
Well, there is no formula for that. People have different opinions on this topic. Some might tell you to change it every month while others will tell you that it is completely okay to use your golf towel for 6 months or more. It is up to you.
If you feel that the towel isn't doing its job and the fabric has worn out or maybe the color of your towel has faded, then you know that it is time to get a new one and discard your old golf towel. Wholesale Golf towels affect your game so sacrificing on the quality of the towel cannot be thought over. You need a towel that works perfectly every day on your clubs and balls. 
How to take care of your towel?
Your towels will stay with you if you take some extra care of them. Wash them following the proper instructions given on their pack. Make sure to dry the towels before you use them again. If you want to save the colors of your towel, you can use a detergent that is colorfast and won't harm or bleed the colored towels that you have.
Make sure to see which material of the towel is allowed in the dryer of your machine. Some are recommended to air dry while some are ok in the dryer. Microfiber cloth golf towels are ok in the machine as well as in the dryer.
Use a fabric softener if you want that extra softness and that nice smell to your towel. Fabric softeners are great to use and will make your towels smell all nice, so when you use them in the field, the smell will freshen you up on a whole new level. 
Choose the towel that is best for you. Your golf towel should be your best friend at the game and should stay strong I hot and cold weather.