Guide to Herringbone Kitchen Towels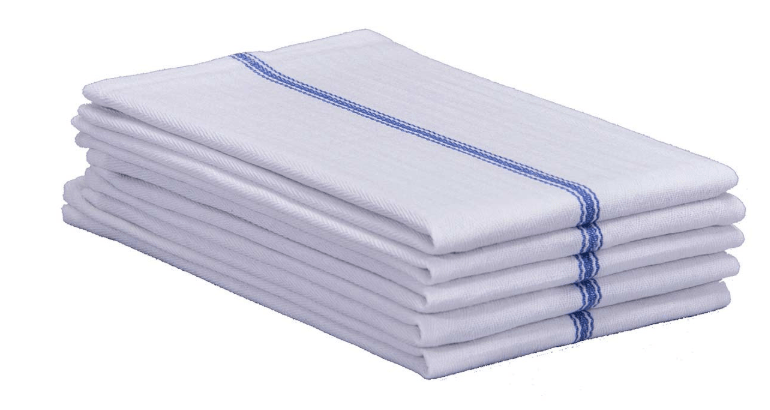 Wholesale Herringbone Kitchen Towels
The feeling when you get a flawless Instagram worthy meal on your table, at your favorite restaurant is just unexplainable. The whole experience is special and is cherished by many. When you dine out and even when you have dinner with your family and loved ones at home, the hard work and love behind it make the meal worth it. The most important thing about your meal is how it is made and how hygienic and healthy it is for consumption.
Having meals at home makes us feel pleased about the cleanliness of the kitchen and hygiene issues. Restaurants, on the other hand, have their kitchen labeled "only for staff" and a normal visitor at the restaurant or a café is not allowed to enter the kitchen, let alone know about the cleanliness.
Many detergents and liquid cleaners are used for cleaning of the kitchen. The mess after a meal gets cooked needs to be cleaned properly. Towels are a must have kitchen utensil, whether it is your home kitchen or the restaurant that you recently visited, kitchen towels will always come handy.
Wholesale kitchen towels have a number of uses in the kitchen alongside other numerous tools that are needed in the kitchen. Herringbone towels are very popular and have always been in demand for kitchen use. Herringbone is a weave design and the herringbone pattern is a woven towel in premium 100% cotton fabric. The pattern is interlaced and the towel is woven in such a way that it becomes way more durable than normal towels. Color coordination is generally white with blue and green stripes. Wholesale Herringbone kitchen towels have a standard size of 15 * 26 inches which makes them handy and super easy to use in the kitchen.
Your Kitchen Towel is your new best friend
Wholesale Herringbone kitchen towels are lint free kitchen towels which make them your preferred. Imagine using a towel in your kitchen while preparing your meal of the day without worrying about the kitchen towel giving away fluff and making a mess on your favorite dishes.
Restaurant kitchen or your house kitchen, herringbone kitchen towels are a must tool there. They also look super cute with that extra texture on the towel and the green and blue lines always add up a little color to them.
Place it anywhere in your kitchen, your herringbone kitchen towel is bound to be your new best friend. Hang it from the oven door or install a separate towel handle for your wholesale sale lint free towel, it should be placed just near enough from you to grab it when needed.
Ever thought how you can make your kitchen look more cozy and colorful? Well, you can decorate your kitchen using bulk herringbone kitchen towels and mix match it with the wall color of your kitchen or maybe complement it with the curtains. Purchase some printed kitchen towels and you will enjoy the new look. All set for trying out new dishes with a new look and a positive mood.
Herringbone kitchen towels are by far the most multipurpose kitchen towels and they are super useful. You might be washing them every second day because of them getting used so much. But these towels will always be there and will save your day when there is a spill and a mess in the kitchen. Super absorbent and easy to handle.
Why do we fancy cotton for kitchen towels?
The material or the fabric of the towel makes the whole towel game worthwhile. If the towels for whatever purpose they are used for are not of the right material, they won't function the way they are supposed to do.
Herringbone kitchen towels are made up of 100% cotton, which means there is absolutely no blending of any other material in the kitchen towels. Well, there are many factors because of which we chose the cotton material for towels that are to be used in the kitchen. Some common plus points of cotton are:
Cotton fabric is high in absorbency. We need a towel in the kitchen that will absorb all the liquid spills and the moisture from the surfaces and will leave the kitchen super dry. It also saves time and absorbs the spill pretty quickly. Dry out the dishes or the juice that just messed up the whole slab, your wholesale herringbone kitchen towel will be handy here.
Blue and green stripes are the standard vintage design of bulk herringbone kitchen towels. You know that these striped towels belong to your kitchen, they won't get mixed up with other towels in the house.
Cotton is a soft and gentle material to use in the kitchen. They do not go out of shape or wear off even after so many washes. It is also easy on your pocket and saves money.
Microfiber? We doubt them for Home Kitchens and Restaurants
Kitchen towels apart from wholesale herringbone kitchen towels also come in the microfiber material. Most people who work in the kitchens every day like chefs, for example, do not opt for microfiber towels to be used in the kitchen. They are a fan of 100% cotton herringbone towels for all their work.
Microfiber towels might be good for cleaning surfaces but when it comes to the kitchen they are not durable for this side of the house or the restaurant. These towels are made from tiny fibers and they are also less absorbent than cotton towels. Linen is another fabric that I used in kitchens but it goes more of a decorative article rather than having a practical approach towards it. They are highly sensitive towels and low in absorbency.
What qualities to look for a good kitchen towel?
Ever pondered the qualities that we look for in a good kitchen towel. These little things in our lives are taken for guaranteed and we rarely think about the characteristics that these have which makes their usage worthwhile.
Wholesale herringbone kitchen towels are the ultimate kitchen towels that you can go for. They have several qualities that make them on top of the list. Herringbone lint free kitchen towels is a utensil every kitchen, commercial or personal should have enough of.
High in absorbency is what makes them so unique. Herringbone cotton towels absorb the moisture and keep the softness of the material. If you will for a cheaper towel, they won't absorb any liquid spills in the kitchen or the water near the kitchen sink the way these towels do.
Since bulk herringbone towels are made from the finest cotton material, they happen to be the most durable material means they are long-lasting. They will sustain many washes and you can use them guilt free. Your investment in bulk herringbone towels will not go to waste.
Do not go for inefficient, cheap towels which might look great but will not be useful for you. Herringbone kitchen towels will look great in your kitchen. Grab some extra towels and place them near the rack for emergency usage if the ones you are using are dirty. The green and blue stripes are the standard strips that these towels have.
The best part of wholesale herringbone towels is that they are lint free. Do not worry about lint balls on your precious glass dishes and bowls. Wipe away your kitchenware with lint free herringbone kitchen towels and they will leave the dishes nice and clean.
You do not need very small kitchen towels that will not assist you clean the kitchen equipment and will be a hassle to use as well. Get a good size so that it is also easy to fold the towel two or three times as needed. If the size of the herringbone kitchen towel is too big, it will also cause trouble using the towels with an easy hand in the kitchen.
There might be some things that you need to keep in mind in addition to the main characteristics of the kitchen towels mentioned above.
Go for a wrinkle free resistance towel. You want your towel to look great after every use, look for towels that do not need much ironing.
Purchase towels that best fit for your kitchen. Herringbone kitchen towels come in green and blue stripes and are textured because of the herringbone weave. Some towels are in plain material as well.
The color of the towel is another aspect of the towel. Many companies make towels which have patterns and different kind of designs on them. The herringbone towels come in white with colored stripes.
Take good care of your Herringbone Kitchen Towel
Wholesale herringbone kitchen towels are easy to wash and dry. They are low maintenance and will not cause your kitchen trouble. Wash them on medium speed in your machine with a good detergent and they will come out as good as new. Use a fabric softener if you wish to have a nice smell to your lint free herringbone kitchen towels and want extra softness to the feel of your towel.
If you do not have a machine at home, then you can always soak your wholesale herringbone kitchen towels in some water with some detergent and then dry them up in natural light and air. Rinse the towels with your hands before drying them to clean off any mess that is stuck on the kitchen towels. The water doesn't have to be hot or warm for the kitchen towels to get cleaned.
Uses Of Wholesale Herringbone Kitchen Towel?
Wholesale lint free kitchen towels can be used for several tasks in your kitchen. It is a kitchen towel that is versatile, durable, and will stay in your kitchen for a long time. Some uses that the wholesale herringbone towels can be used for are as follows:
Kitchen means dirty dishes and dirty dishes mean that there has been serious cooking that took place. Dishes need to be done as soon as possible so that the food on them does not harden. Herringbone kitchen towels can be used for washing and drying purposes. They are highly absorbent so washing with these towels will not make them heavy and hard to use. Dry off your dishes and wipe them with a dry herringbone kitchen towel without the fear of
Cooking means all the dishes, your tasty spices, and different other condiments will be out on the counter. All this will create an accidental spill of any liquid or maybe the spices will tip-off. Constant clearing of the mess and cleaning is done in the kitchen when one is working. Bulk herringbone kitchen towels will help you clear away the messy counter and the spills. Just have a handy kitchen towel thrown on your shoulder and you are ready for any messy accident that can happen during your cooking.
Many people don't know that herringbone kitchen towels can also be used to avoid the cutting board slip. Place them under the board and there you go, your board will not slip anymore on the counter and you can now work stress-free.
Fresh vegetables like coriander, mint leaves, and other herbs when washed off need a place to dry. Place all these greens on the herringbone kitchen towel and let the towel do the rest of the work. It will absorb all the moisture and will leave behind fresh ingredients for your perfect meal ready to be cooked.
Have no kitchen gloves in hand? Use wholesale herringbone kitchen towels to hold the hot pot from the stove. Just fold the towel nicely and use it to transfer the pot from the stove.
Just baked a nice chicken pie? Lint free herringbone kitchen towels are used to cover food as well. They make them stay fresh and will protect them from anything that might harm the food. Many chefs use these towels to cover dough as well when they are in the process to rise. Sandwiches can stay fresh if you numb your kitchen towels and cover the freshly made sandwiches.
Getting some nice kitchen towels for your restaurant or home kitchen is essential. The towels help you multitask without creating a huge mess in the kitchen. Do not opt for cheap quality or fabric as it may have to be replaced pretty soon. Make sure that the quality of your kitchen towels is on top of the game. Get the towels in bulk so they are easy financially as well. Bulk herringbone kitchen towels will always come handy, so always keep some extra in stock.