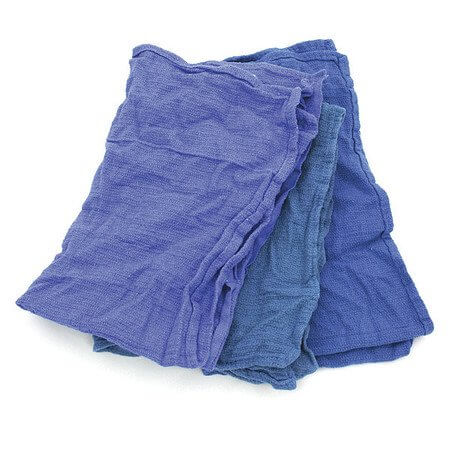 Wholesale Reclaimed Huck Rags
Surgical huck rags or huck rags are towels specially designed for your convenience. These are made of low lint 100% cotton and are highly durable because of their excellent water-absorbent quality. They have a long life. "Huck" refers to a special style of weave called huckaback, used to make the fabric. They are named surgical huck rags as they are highly utilized in medical facilities. Bulk reclaimed huck rags are available for numerous cleaning purposes by window washers, auto detailers, and professional house cleaners.
Cotton towels are used in cleaning food service areas, all kinds of kitchens, gyms, economy hotels, country clubs, hospitals, nursing homes, physical therapy clinics, and healthcare. These are great for areas with heavy towel loss or towel abuse. Huck rags are great value for the price.
Surgical huck rags are available as new and reclaimed rags. New huck rags are 100% cotton, colorfast, and extremely absorbent. Reclaimed huck rags are actually available in secondary markets after they have been used in hospitals. They are rewashed, re sanitized and re-packaged, and then are available as wholesale reclaimed huck rags.
Surgical huck rags are available in commercial grade material, like blue and green huck towels used for surgical, cleaning, manufacturing as well as for housekeeping purposes. They are composed of pure cotton material that is natural and does not harm the environment.
Now let's see how huck rags are widely used for various purposes:
SURGICAL USE
Primarily available for surgical use, new lint-free huck rags are used for wiping surgical instruments after sterilization. They are sterile drapes used for covering the surgical site while surgery is being performed. They also cover certain other areas of the patient. Its lint-free quality makes it highly absorbent, free of particulates, and ideal for surgical purposes.
HOME USE
Bulk reclaimed huck rags are available in different colors, which also determines their specific use; white or dyed colors of green or blue. White is used for dish drying and blue for drying cars. Other common household uses are dusting and polishing furniture and cleaning mirrors, windows, and sliding doors.
KITCHEN USE
Cotton based lint-free towels are ideal for drying dishes in the kitchen. They can absorb water quickly and dry your small and big utensils quite easily! Because of being lint-free, they do not leave lint balls anywhere!
Cotton towels are used for cleaning the mess you make while cooking. They clean up your prep and cooking areas efficiently, even the accidental spills you make!
Huck rags can also be placed under cutting boards to prevent slippage, dry up freshly rinsed fruits vegetables and herbs. They can also be folded up as potholders and can cover rising bread dough and freshly baked pies!
Cotton towels are one of the frequently used items used every day in the kitchen for various reasons. When choosing a kitchen towel, you should never opt for a cheap one. Such a versatile towel should be of good quality, which can serve you well each time and stays with you for long.
If you have a cheap one as an option, you definitely have to worry about its replacement each time because cheaper versions tend to unravel, fall apart, and thin out much faster with frequent washes.
EMBROIDERY USE
Reclaimed huck rugs have two sides one smooth and the other with threads slightly raised above the surface. Because of its raised and evenly spaced rows, both vertical and horizontal, they are widely used for embroidery projects exceptionally, as the embroidery floss considered to be passing through the raised thread loops without merely affecting the appearance of the back of the towel, meaning there are no unprepossessing loops of floss or thread to clean up on the backside.
ADVANTAGES
Bulk reclaimed huck rags are very convenient for long term use as it is 100% cotton and lint-free. These can be washed several times while maintaining its benefits. This suggests its good durability. Some experts suggest using only half the normal amount of detergent required to wash it. Also, it is termed as eco-friendly because it reduces the waste caused by paper products, which are neither long-lasting nor durable.
If people largely start using it in their homes, it will replace the paper rolls completely and will be an environment-friendly option. So why go through paper towels when a better, long-lasting, durable option is available? Why waste your time worrying about the money consumed each month on paper rolls? Why not opt for a better option instead?
These are excellent for removing dirt, dust, grease, smudges, fingerprints, smoke residue, and grime. These are hemmed at all edges, which makes it perfect for wiping, cleaning, and scrubbing. Wholesale huck rags are available as 10 lbs. box. Sanitized Huck Recycled Rags approx. 15″ x 26″ inches in size.10 lbs. box would give you approximately 40 to 60 pcs assorted mix from blue and green huck rags. Also available in the wholesale bale of 1000 pounds when I say lbs. That means pounds.
IMPORTANCE OF USES IN SURGERY
Surgery is a specialized procedure that usually involves entering ones' body. This exposes a person to hundreds and thousands of infectious agents, which can be dreadful. For this, it is essential that the equipment that is used for surgical purposes are highly sterilized and specialized by all means. Surgical huck rags are designed so.
They have sterility as principle policy. They facilitate cleaning and accomplish extreme effectiveness due to their adaptation in liquid absorption. The liquids that are absorbed considered to be delicate and, in fact, including blood and human stool. It is thus imperative to use towels that are entirely made from cotton.
In comparison to huck towels, conventional surgical towels, although useful for their absorbency, cleaning ability, and soft, malleable handle, they have the tendency to discharge large quantities of cotton particles and fiber during use. That's why when used on or around the surgical wounds, serious problems like infection, inflammation, granuloma, thrombosis, adhesions, and embolism can be caused.
Particles discharged from conventional surgical towels are a source of nosocomial infections because they carry pathogens and contaminate the wound. Lint discharged can act as a vector and be a cause of adhesions and granuloma when lodged inside the wound. This leads to difficult wound healing in addition to other problems.
In ophthalmic surgeries, particles defiling the injury may cause Diffuse Lamellar Keratitis, which leaves grainy white cells in the eye. Particles additionally may cause harm if they dwell on the outside of a counterfeit joint embed where they may cause contamination and may shape scar tissue.
Therefore, to reduce all the risk factors like wound contamination, which can prove fatal for patient's health and prevent him from proper healing, it is important to use "clean room" technology and avoid largely the use of products that discharge lint particles. Surgical huck rags are meant for these special purposes and serve well.
Where to find best wholesale reclaimed huck rags.
Reclaimed Huck Rags, also known as recycled blue surgical towels are generally 100% pure Cotton. They are accepted to be commercial ranking janitorial huck rags.
Moreover, they are Grade A washed and sanitized. Excellent for cleaning, auto detailing, window cleaning, and for mirrors and other glass surfaces. Colors may vary depending on what is merely available at the time of purchase. Expect either blue, misty blue, or green or even a mix of all colors as there is usually a shortage of all blue huck towels. 16×24 average size. Approx. 7 per lb.
These towels are produced from recycled huck rags. These rags have an uneven or rougher texture to them, which is great for wiping, cleaning, and scrubbing. It can serve various cleaning purposes. Sold in 50-lb boxes.
HOW TO WASH HUCK TOWELS?
Always note some important instructions to take care of your new huck towels:
Always wash and dry your towels before use, as some of the towels are compressed in order to reduce the freight cost. They will fluff beautifully! Do not use bleach for cleaning these towels because it can damage them. Use half amount of detergent you normally use for other towels.
Most importantly, do not wash microfiber and cotton towels together. The Microfiber products will handle the lint generated by the cotton fabric like dirt and store the tiny cotton particles within the microfibers. It would be best to never utilize a fabric softener, for the reason that the microfiber will mount up fabric softener as if it were water repellant and further saturate the microfibers, reducing their effectiveness. Use low temperature when drying.
Try to avoid the use of a dryer. Line drying is preferred more because they can wear out quickly like any other material. Simply shaking them and drying them on the line will make them nice and flat. Putting them in the dryer may cause it to scrunch, wrinkle, and difficult to fold. Save some of your power and money by drying them on the line and making them last longer.
Take care of possible side effects. Neither wash different types of towels together, nor those of different colors. Wash them separately. Do not wash white with other colors. Avoid utilizing fabric softener as it reduces the absorbency.
Make sure not to overload the washer or dryer. It is because of the reason that it causes your towels' fibers to deteriorate and eventually fray. It is also expected that the useful life of the towels might also be shortened.
ECO-FRIENDLY PRODUCTS
Surgical huck rags are termed as eco-friendly products. They are highly durable and long-lasting and effectively replace the paper products. These have the advantage of being reusable, which makes it far better than disposable paper products.
Huck rags can be utilized a hundred times more as compared to paper products that are consumed in bulks. This largely reduces the amount of rubbish produced by throwing away disposable products after one time use and fills up the landfills.
Anything that is reusable and recycled is better for our environment. So, let us initiate and promote the use of environment-friendly products and make our planet safe from unwanted waste and resultant pollution. Let's make our homes and environment waste-free, clean and beautiful!
MONEY SAVING HUCK RAGS
When you first go to the store to buy huck towels, they may seem a bit expensive as compared to usual paper products. But do not worry! Think of the long term use you can get after buying it for once. They can easily last for years, much better than those lasting maximum fortnightlies.
Imagine the number of paper products you utilize each year for various purposes and your monthly income spent each time you go shopping. If you take a look at your overall saving, you will definitely find huck rags better.
See the versatility of huck rags, being used almost everywhere in your house, from kitchen cleaning to wiping floor spills, cleaning mirrors, and other areas of your bathroom to cleaning cars in your garage and even wiping your kids' faces!
COMPARE WITH MICROFIBER
When we look at the preferred materials for kitchen cleaning purposes, there are two names worth mentioning: Microfibers and Cotton. Microfibers are a highly preferred choice by most people. They are composed of microscopic fibers that are even finer than silk. These small fibers work independently and hold a large amount of water.
But there are several drawbacks to utilizing this material. Firstly, it is expensive than cotton towels. Secondly, they do not have many absorbent properties like cotton, which makes it to wick away moisture and keep it moving, not actually absorbing the moisture. They may also be unsuitable for certain surfaces like smooth and gentle surfaces where it becomes abrasive and causes scratches.
Cotton towels, on the other hand, have great absorptive properties making it to retain a large amount of water easily from wet surfaces. It is smooth and gentle on every surface. It also holds its shape after washing and drying. Cotton huck rags are more economical and come in different colors. You can buy different colors and use them for different purposes!
SPECIAL USES
The use of huck rags has an advantage of better barrier protection when used on surgical sites, and because it is a reusable product, it serves by minimizing our daily wastes. It is essential to reduce the amount of waste produced as much as possible. There are tons of hospital waste produced each day.
American Reusable Textile Association Researchers conducted a comparison project in the operating rooms of two large medical centers to evaluate the effects of using reusable surgical items in place of disposable products. Survey results suggested that reusable products reduced regulated medical waste generated in the operation theater by an average of 65%.
American National Standards Institute (ANSI) and as well as the Association for the Advancement of Medical Instrumentation (AAMI) published the study, which showed that when laundered properly, reusable garments and drapes are actually 70% more effective in providing barrier protection.
There has been significant research that suggests that reusable textiles are superior in terms of their environmental sustainability and ability to help hospitals reduce waste.
In addition to surgical uses, there are certain other advantages also:
The people offering janitorial services employ this piece of cloth to enhance a high degree of cleanliness. The field is highly reliant on this towel for its absorption level. It absorbs large volumes of liquids, making it more reliable and efficient. Car washers apply these while wiping car windows and as hand towels too.
The fast and enormous absorption material makes them very reliable. The fabrics have also upgraded the janitorial function, and it is being broadly appreciated for their ability in liquid absorption. These fabrics are commonly used to wipe and finalize the cleaning. Service businesses like restaurants lodgings and salons have gigantically shifted to this towel, particularly in hand cleaning.
The art of cleaning has never been enjoyable without the use of huck rags. It is emerging as the best to clean surfaces, especially glass windows. This towel provides excellent results despite any sort of fluid.
Reclaimed huck rags are commonly available on medical stores and stores dealing with janitorial items. They are also easily available in online stores.
The cloth is not only presentable but durable also. It enjoys washing and actually improves with age.