Tote Shopping Bags Bulk
Tote bag shopping is not only a great way to reduce the amount of plastic bags used, but it is also beneficial to the environment. Tote bags are typically made from recycled or repurposed materials, so they don't require additional resources or energy to be produced. This means that when you purchase a tote bag, you're actively helping to reduce the amount of waste that ends up in landfills. Additionally, using tote bags can help you reduce your overall environmental footprint by reducing the amount of single-use plastic products that you purchase. Finally, tote bags are also incredibly durable, so they don't need to be replaced as often as plastic bags, further helping to reduce unnecessary waste.
1. Cost-Effective: Reusable grocery bags are much more cost-effective than disposable plastic bags because they can be used over and over again, saving you in the long run. Many stores also offer discounts if you bring your own bags, which can add up quickly.
2. Eco-Friendly: One of the main advantages of using reusable shopping bags is that it reduces waste and helps keep our planet clean and healthy. Plastic pollution is one of the biggest environmental issues facing us today so by using reusable grocery or shopping bags we can help reduce this problem significantly.
3 . Versatility : Reusable grocery or shopping bags come in a variety of shapes, sizes, colors and styles so you can find something that suits your needs perfectly!
4 . Durability : Another benefit of tote bags is that these types of reusable totes tend to be quite durable due to their construction materials such as canvas or nylon being much sturdier than typical plastic ones which often tear easily when carrying heavy items like groceries or other items around town! This means less chance for them breaking down prematurely as well!
5 . Convenience : Reusable grocery or shopping totes offer plenty convenience since they're lightweight but still provide ample space inside them – perfect for those who have a lot on their hands while out running errands! Plus they're easy enough to fold up when not in use so they won't take up too much room either at home or in your car trunk (or wherever else).
Ultimately, switching from disposable plastic shopping bags t o reusable ones such as custom reusable grocery bags will save both money an d resources , making i t an excellent choice for anyone who wants t o make a positive impact on our planet !
Tote Bag's Shopping: What to Look For
Are you looking for a new way to shop? Tote bags are becoming the go-to when it comes to grocery shopping. With reusable tote bags, you can help reduce your environmental impact while still getting the items you need. But with so many different types of tote bags, how do you know which one is right for you? Here's what to look for when shopping for reusable grocery bags and personalized totes.
1. Quality: Reusable bags should be made from durable materials that can hold up over time and through multiple uses. Look out for high-quality materials such as polypropylene or canvas that will stand up against wear and tear.
2. Sizing: Depending on your needs, it's important to find a bag that is the right size for your groceries or other items that you plan on carrying with it. If you plan on using the bag frequently, consider purchasing both smaller and larger sizes so that they're ready whenever needed!
3. Design: One of the advantages of buying customized tote bags or wholesale reusable grocery bags is customization options! You can choose from cool prints, colors, patterns and more—allowing owners to personalize their own bag's according to their style preference without sacrificing quality or function .
4. Environmentally Friendly: When choosing a reusable grocery bag make sure it does not contain any harmful chemicals such as BPA or phthalates which are commonly found in plastic disposable products like disposable grocery store bags . Additionally , look out for Reusable Grocery Bags made with recycled material , this helps reduce waste !
Shopping around with all these factors in mind will ensure that no matter what type of reusable bag it is – whether its canvas , jute , nylon etc -you get exactly what fits your lifestyle best !
Tips for Styling Your Tote Bag for Any Occasion
Tote bags are one of the most versatile and practical accessories for any occasion. They can be used for shopping, commuting to work, carrying books or even as a fashion statement. But how do you style your tote bag so that it looks great and serves its purpose? Here are some tips to help you out!
1. Invest in Recycled Bags: Say goodbye to single-use plastic bags from the grocery store and invest in reusable, eco-friendly totes. Not only does this save money over time but it's also better for the environment! Look for bags made from recycled materials such as fabric scraps or old T-shirts that can be reused again and again.
2. Buy Bags in Bulk: If you plan on using your bag often, buying them in bulk is a great way to save money while still having plenty of fashionable options available when needed. Look online or at local stores that sell promotional items such as office supplies or apparel – they often have bulk discounts available!
3. Mix & Match Accessories: To add some personality to your bag, try mixing and matching different accessories like pins, badges, patches or keychains – all of which can be found online at very affordable prices! Experiment with different combinations until you find something that fits your own unique style perfectly.
4. Dress It Up: Totes don't have to just be utilitarian – they look amazing dressed up too! Try pairing one with a dressier outfit for an evening event by adding a belt around the waist or tying a scarf around the handles for an extra touch of classiness (or funkiness!)
These simple tips will help ensure that your trusty tote bag looks amazing no matter what occasion it's being used for – so go ahead; show off your fashionable side while also doing something good for our planet!
Fun and Functional Canvas Tote Bag's Shopping Ideas
When it comes to shopping, there are a wide variety of tote bags available. Whether you need something to carry your books or groceries from the farmer's market, promotional products like bags make a great addition to your wardrobe. But what if you want something functional and fun that also helps the environment? Canvas tote bags offer an earth friendly and amazing option for carrying all of your needs.
Canvas totes provide a classic look that never goes out of style. They're made from sturdy materials that can hold up against wear and tear over time, making them an excellent investment for everyday use or special occasions. Plus, they come in a variety of colors and prints so you can find just the right bag for every occasion!
If you're looking for something more economical than canvas totes but still environmentally friendly, non-woven polypropylene bags are the way to go. These lightweight yet durable material options provide strength without sacrificing style – perfect for bulk items like groceries or trade show giveaways! Not only will these eco-friendly alternatives help reduce waste at your next event but they also look great with any outfit – plus they won't break the bank either!
No matter which bag style you choose, canvas totes or non woven polypropylene bags both offer a fun and functional way to carry around all of your essential items while helping protect our planet. So don't wait any longer – find the perfect bag today!
How to Find the Perfect Tote Bag for Your Needs
Are you looking for the perfect tote bag to carry around your business materials as you attend trade shows and shop? With so many different shapes, sizes, and materials available it can be hard to decide which one is right for you. Here are some tips on how to find the perfect tote bag that meets your needs.
The first thing that should be considered when shopping for a tote bag is what kind of material it's made from. If you're looking for something lightweight and durable, plastic is a great option. It's also easy to clean and comes in a variety of colors and designs so that you can make sure your customers know who they're carrying around with them! If eco-friendliness is important, there are plenty of recycled options available too.
Once you've decided on the material, it's time to consider size. Not all totes are created equal; some are designed specifically for trade shows while others may be better suited for everyday use or as store bags when customers go shopping. Think about what kind of items will need to fit inside the bag before making your purchase so that everything fits perfectly without being too bulky or heavy.
Next, look at design elements like straps or handles if they come with the bag; these will determine how comfortable it is when carrying around all day long at trade shows or other events. Consider whether or not the straps should have padding included in order reduce shoulder strain throughout the day as well as if adjustable straps would be beneficial in order customize fit better according customer body types .
Finally, think about budget constraints versus quality: cheap totes might seem appealing but could wear out quickly over time; investing in a more durable option will help ensure your business materials stay safe over time – even through lots of travel!
Finding the perfect tote bag doesn't have to be daunting – just keep these points in mind and make sure whatever choice you pick fits both your needs and budget perfectly!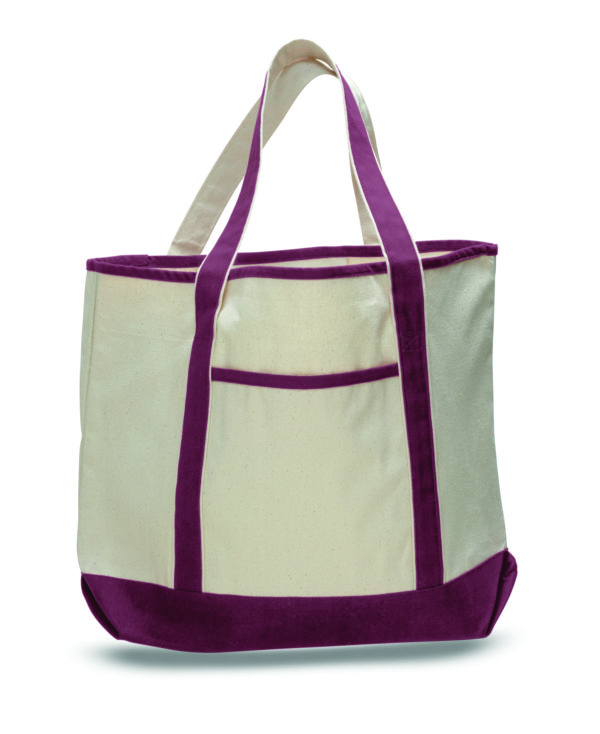 The Rise of Tote Bag's Shopping in Popular Culture
The rise of tote bag's shopping has been a phenomenon in popular culture over the last few years. From grocery stores to brand name accessories, people are increasingly opting for the convenience and style that tote bags offer. Not only do they provide a practical way to shop, but they also provide an easy way to make a fashionable statement with your logo or favorite design.
When it comes to shopping for clothes, using a reusable cloth or canvas bag is becoming increasingly popular as an eco-friendly alternative. Not only does this help reduce waste, but it also shows that you're making an effort towards sustainability and supporting the environment. These bags can come in many different styles and designs, so there's something out there for everyone's taste and budget. Plus, since you can use them multiple times without worrying about wear and tear, you don't have to worry about replacing them often either!
But when it comes down to it, what really makes these bags stand out is their quality of materials used in construction. Many brands now offer premium fabrics such as cotton canvas or even leather that are extremely durable at the same time – which makes them perfect for day-to-day use! Plus with prices ranging from very affordable all the way up into designer territory – there really isn't any excuse not too check out some of these great options before heading out on your next shopping excursion!
Whether you choose one with a simple logo on it or one with more detailed designs like those seen in high-end catalogues – having a great looking bag while doing your weekly shop will certainly set you apart from other shoppers around town! So why not give these modern classics a go? With such variety now available at any price range – you won't regret giving them a try!
The Best Tote Bags for Travel and Leisure
Tote bags are an essential accessory for travel, leisure, and everyday life. They're handy for carrying all your travel essentials in one place and make a fashionable statement while still being practical. Whether you're looking for a custom bag to show off your style or an affordable option that will help you save money, there is a tote bag out there that can fit the bill.
When it comes to material, the most popular choice is canvas because of its durability and recyclable nature. Not only does it look great but it's also lightweight and easy to clean. Plus, with so many colors and patterns available you can find one that perfectly matches your style!
For those who need their tote bags on-the-go or have food allergies, finding something made from hypoallergenic fabrics is important. There are plenty of options out there such as nylon or polyester which are both lightweight yet strong enough for daily use. They can be easily wiped down after use if needed making them perfect for carrying food items around town too!
If you want something special then why not opt for a custom bag? You can choose the size and design yourself so the end result will be totally unique! It's also great if you own a shop or business as they make excellent promotional items too – just add your logo onto them before handing them out at events or giving away as gifts!
Whether it's traveling by plane or simply running errands around town – having the right tote bag makes all the difference when it comes to convenience and comfortability throughout our day-to-day lives. With so many different styles available – from canvas totes in fashionable colors & patterns to custom designs made just for you – finding what fits best into your lifestyle has never been easier!
Personalized Tote Bags Bulk
Do you need custom tote bags in bulk for your next promotional events? Look no further than screen printing! With screen printing, you can easily create unique designs on tote bags that will make a big impression on your customers.
Screen printing is an age-old technique used to create beautiful prints with a variety of materials, including fabric. It involves using a mesh screen with an image or design printed onto it and then pushing ink through the mesh onto the fabric. This process allows for large quantities of custom designs to be produced quickly and easily. The ink is permanent, meaning it won't wash away or fade over time.
Personalized tote bags make great promotional giveaways as they are both useful and attractive at the same time. You can customize them with whatever message or logo you like, making them perfect for advertising your business or special event. And since they come in bulk, you don't have to worry about running out of supply!
Screen printing is an affordable option when it comes to creating personalized totes in bulk. It also offers superior quality compared to other methods such as heat press or digital printing; ensuring that your logo stays vibrant even after years of use! Plus, there are many experienced professionals who specialize in screen printing so you can trust that your order will be completed correctly and quickly – perfect if you have a tight timeline!
So if you're looking for personalized totes in bulk for your next promotional event, consider using screen printing! With this method, not only will you get high quality prints but also save money by purchasing items in bulk – making it the ideal choice for all kinds of businesses and events alike!
Reusable Shopping Bags
Reusable shopping bags come in a variety of sizes and styles so you can find one that fits your needs. From canvas totes to mesh produce bags, there's something for everyone. They're also lightweight and easy to store in your purse or car so you never have to worry about forgetting them when you head out for groceries. Plus, many stores now offer discounts when customers use reusable shopping bags!
Not only do reusable shopping bags help reduce plastic waste – they can also save you money over time. Disposable grocery bags cost an average of $0.10 each – which adds up quickly if you shop often! In contrast, even the most expensive reusable bag will pay for itself after just 10 uses (or even less). With proper care and cleaning, these eco-friendly alternatives can last years – making them well worth their price tag in the long run.
Reusable grocery bags are not only good for our environment – Whether it's a vibrant patterned canvas bag's or a sleek insulated cooler bag with handles, there's something out there that will fit your personal style while helping make an impact on our planet at the same time.
So what are you waiting for? Get yourself some reusable shopping bags today and start reducing your carbon footprint while saving money too!
What is the difference between a tote bag and a shopping bag?
A tote bag is typically a larger, more durable bag than a shopping bag. Tote bags are usually made of canvas or other strong materials & can be used to carry heavier items. Shopping bags are usually smaller and made of paper or plastic & are better suited for carrying lighter items.
What's so special about the tote bag?
Our tote bag is special because it is stylish yet versatile. It can be used for a variety of occasions, from a day at the beach, to carrying your laptop & documents on your daily commute. Plus, its durable fabric ensures that it will last you for years to come. So if you're looking for a great all-purpose bag that looks good too, our tote is the perfect choice!
2023 Best Wholesale Waist Aprons | Towel Depot
Wholesale Waist aprons are a type of clothing that is worn around the waist to protect the clothing underneath. They are commonly used by chefs, servers, bartenders, and other food service professionals. They are typically made of durable materials such as cotton or poly-cotton blends and come in various colors and styles to suit different preferences and needs.