Wiping Rags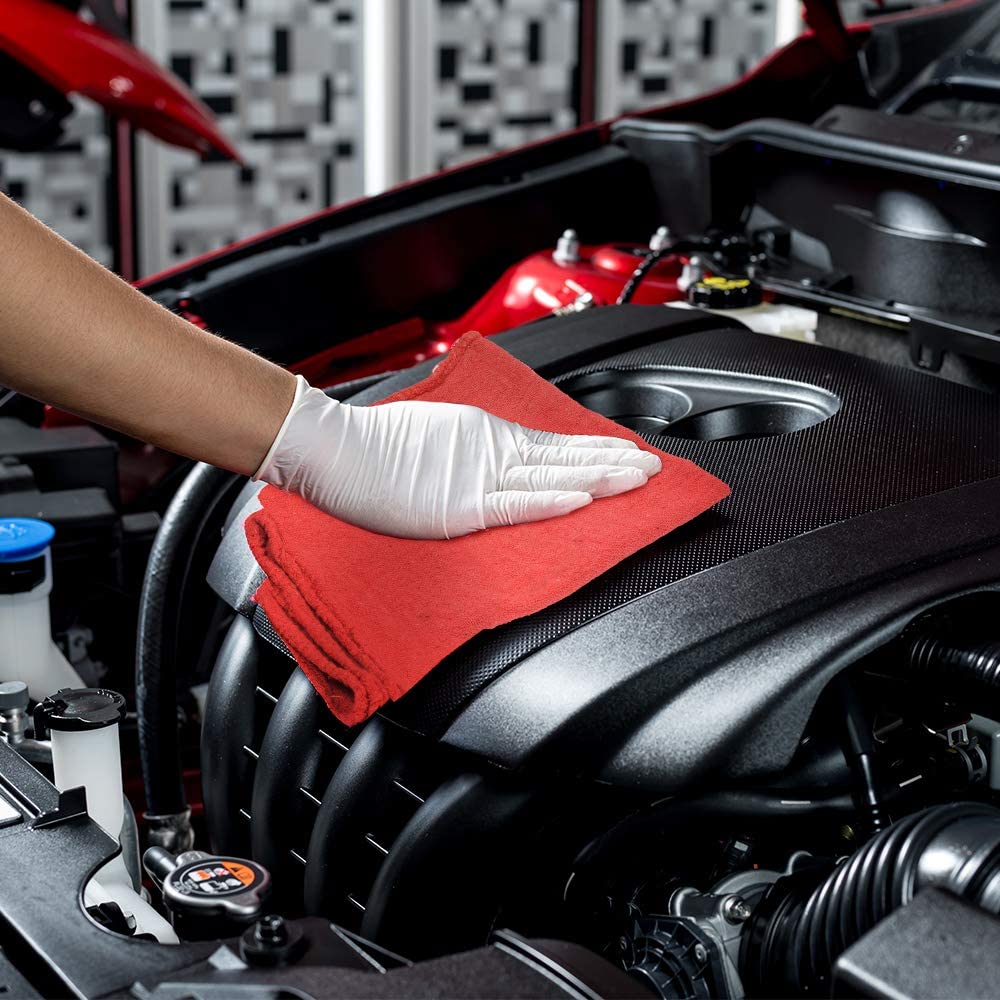 Industries have changed their face and are evolving every day. From the spoon that you use for eating to the gold ring on your finger has gone through a number of processes, approvals, material handling, maintenance and, many more steps to get the final product ready to be used in front of you. The product seems simple, but the story behind it always has several people, teams, and workforce who managed to get the product in the desired form.
Observe the number of things that you use in your everyday life. Everything has a production line, and workers who are paid to make that product, some have dying processes, production, final touches, and whatnot. Industries and factories have outputs in bulk, and they are equipped with large, heavy-duty machines installed at their premises. The tools, equipment, heavy industrial engines, and the whole production process releases many waste products and a massive mess at the workplace.
The workplace, whether it is a huge factory or a mechanics shop in your local area, are places that are always scruffy because of the nature of their work. Keeping these workplaces clean can be a tough job, and to make it look neat, cleaning will take place daily or maybe even twice a week to keep the area clean and presentable.
The mess can be as simple as spilled ink or oily and greasy surfaces. Liquid mess and grime can be hard to manage and clean off. A place like an automobile repair shop or a production factory will have these spills and stains daily. Many solvents and other cleaning detergents are available to deal with the toughest stains and grease. Some might work in the very first cleaning session, while others take a lot more time.
Whatever detergent or the cleaner you use to take out the mess, you need a sponge or a cloth to rub the surface with a strong soap. Low quality sponges or a super plushy fabric will not work on stains that are tough to take out. Tackling grease is not easy since it does not get mixed with water and leaves away stains too.
There are several types of wiping rags, but the one used most commonly is Shop Rags. Shop rags are made up of 100% cotton fabric. Grime, paint, or oil, shop rags will do the job. It is easy to store and easy to use at the same time.
Shop rags are washable, and they come in a standard size of 14 x 14 inches. Any heavy machinery or an oil spill can easily be wiped off with the help of shop rags also called, wiping rags. They work genuinely well with other liquid cleaners and detergents. They are also long lasting, so you don't have to be concerned about the durability.
These little pieces of rough towels are convenient and can be purchased in wholesale. Wholesale Shop Rags will always stay in stock, and you will remain worry-less for them getting used on an everyday basis. Shop rags are used in the industrial sector. Big and small factories and even small mechanic shops always have these shop rags in their working place. They are very versatile and can be used to clean off every kind of a mess.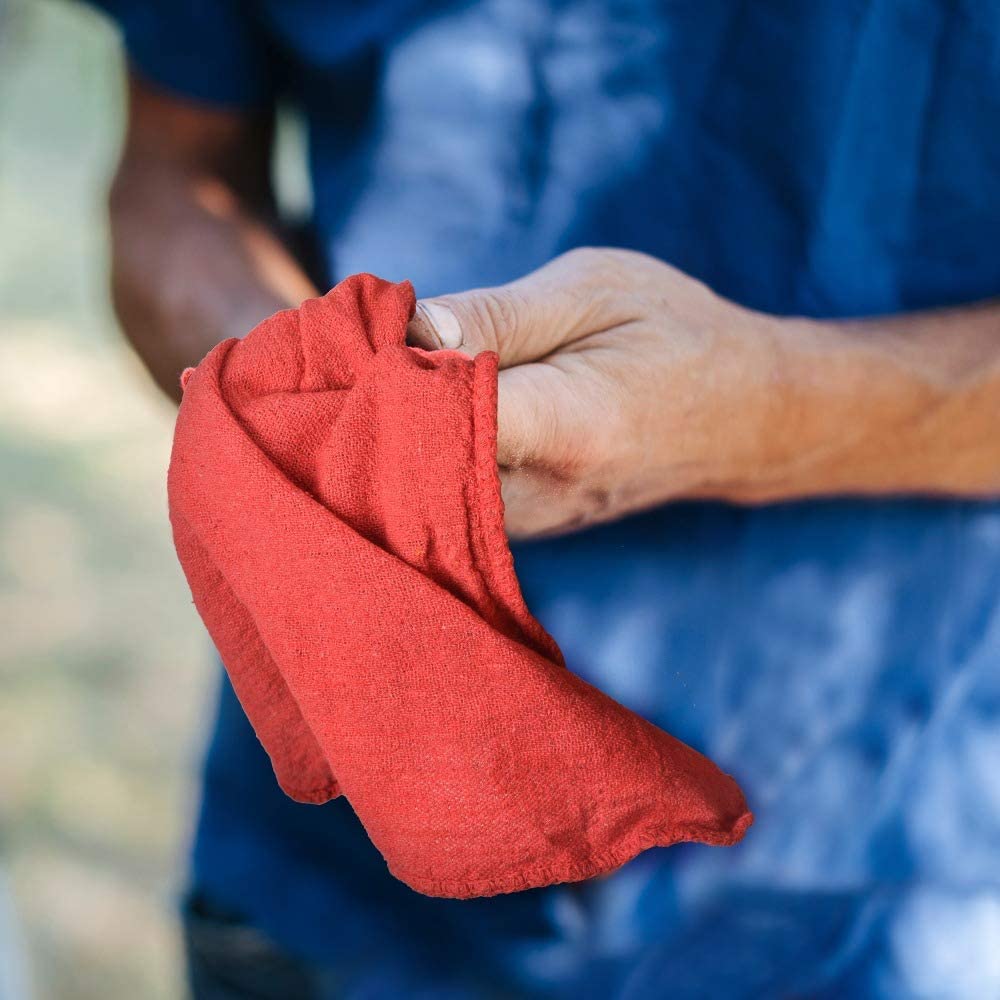 Retail Shop Rags or Wholesale Shop Rags?
Shop rags make your business excel in the overall performance. It helps your hands stay clean while working in the garage, fuel stations, factories, and other industrial areas. Using a shop rag is very handy, just apply a little detergent if the stain is tough or make a dish of soap and water, dip the shop rag in the mixture. The wet shop rag dipped in soap and water mixture can be used and then reused all day long.
How do the owners purchase these towels? How often do they need these towels at the workplace?
Many shops keep shop rags in retail while many keep them in bulk quantities as well. 100% cotton shop rags are available in the pack of 10 at many stores. They are not very expensive and are neatly packed in a small bag. A pack of 500 will be too little for any workplace. People who buy shop rags in retail always ending up purchasing in bulk due to the cost savings.
Wholesale Shop Rags are also easily available in the market and they are also available online. Many websites offer wholesale shop rags at pretty reasonable prices. Wholesale shop rags will save your time and money both.
Wholesale shop rags are used in many places. You might need more than one shop rag to clean off the toughest stains. Oil and debris need a little more work on them and a single shop rag wouldn't be enough to thoroughly take them off.
They can be easily washed again. If, after multiple washes, the shop rags are not in the condition to be used again, your wholesale shop rags purchase will save the day. Discard the old shop rags and bring in the new ones in your workplace.
At Towel Depot we manufacture and sell wholesale shop rags in a pack of 500,2500 pieces or truck load. Purchase the quantity that best suits your business. Make sure that you have ample of shop rags, so you don't have to get them again and again. Shop rags are super convenient and high in absorbency.
Uses of Wholesale Shop Rags
Wholesale shop rags have a number of uses. Their size 14 x 14 inches make them easy to handle and wash. Some of the applications are mentioned below.
Wholesale shop rags are used to wipe off grease, which creates a mess in the manufacturing of products.
Printing press uses wholesale shop rags to wipe different color ink spills and stains to keep the area clean and tidy for work to continue.
Wholesale shop rags are kept in garages. Shop rags do tires that need to be scrubbed.
Clean your furniture with shop rags. Just apply some furniture polish on the wholesale shop rag and wipe your furniture with the shop rag. Your furniture will shine and will look as good as new.
Mechanics use wholesale shop rags to clean their tool kit and the different iron and steel products that they work with.
Engines are left all shiny after being cleaned by wholesale shop towels.
Kitchen utensils can easily be cleaned using wholesale shop rags.
Have a hobby of arts and crafts? Use shop rags to clean away any leftover paint or sticky glue, which are hard to take off.
Professional painters always have wholesale shop rags with them. The amount of primer and paints that they use during the day can only be handled by these shop rags.
Harsh chemicals are tackled by wholesale shop rags in many firms and factories.
Repair shops use wholesale shop rags.
What is your choice, Microfiber or Wholesale Shop Rags?
Everyone has their choices in the way they want things to work. Some people like to work and clean with Microfiber cloths, while some are comfortable with wholesale Shop Rags.
Microfiber cloths are not 100% cotton. They are super expensive and hence cleaning with it won't be useful. Cleaning is a task that will make the fabric dirty, and the fabric will need washing every day. Microfiber can be cleaned every day, but at some point, it won't stay the same. Purchasing a new microfiber cloth will get too hard on your pocket. The fabric is also super soft, which is not suitable for tough stains and tough surfaces. Tough stains need a more durable and long-lasting cloth that will do its job efficiently.
Wholesale Shop Rags are more sturdy and will work correctly on tough stains and marks. The square shaped towels are light in weight and can be easily purchased in bulk quantities. Shop towels bulk are more beneficial since they are durable and can be easily washed on a daily basis. The fibers in shop towels bulk are denser, which makes the shop rags absorb the oil and grease effortlessly.
The cleaning capacity of shop towels bulk is pretty impressive, and once you get your hands on wholesale shop rags, you will not regret your purchase. It is going to be worth buying.
Dyed Wholesale Shop Rags  
The most significant plus point of wholesale shop rags is that they can be easily dyed in any dark color of your choice. If you are not fond of white colored shop rags, dye them up to add some color to the plain white rags.
100% cotton colored rags are available in a variety of different color options. The most common ones are red shop towels, blue shop towels, white shop towels, and neutral shop towels.
These shop rags can be dyed in any color that you desire for provided that they are dark in the shade. Dark colors are most suited in shop towels bulk since the shop rags will be used for cleaning purposes on hard to take out stains and oil spills.
Colored rags have many benefits. They are more long-lasting and more durable. They are not very expensive; hence it is playing its part in the economy too, making it beneficial for everyone.
Wholesale shop towels are dyed to maintain their color after they are washed repeatedly. Dyes are used directly on the bulk shop rags. The dyes are not color-fast but it is the only way to keep these bulk shop rags shiny and running. Also, after the shop rags get dyed, they look more interesting and get a new face-lift. They don't look dull anymore, and the stains that were making them look old, are not visible.
There is a whole industry that bleaches and dyes different kinds of towels. Dying the towels also replaces the need for buying new ones, so in return, it also saves money. The stains that are hard to take off from the shop rags are dyed red. Red shop rags are very commonly used in different factories and automobile shops where there is a lot of work related to machines and different kinds of tools.
Red rags, also called red shop towels that have been washed multiples times, get dyed in a lovely blue color. The blue dye will hide away all the other stains that the red dye had on the shop towel. The shop rags can also get dyed in the shades of brown, yellow, and greens.
Benefits of using Recycled Wholesale Shop Rags
Recycled shop rags are not expensive at all. They are always lesser than the price of the rags made from the original fibers. 100% cotton is used to make recycled shop rags. Wholesale rags and also available in recycled form.
Recycled shop rags reduce waste, which is a worthy cause towards saving our mother earth. Recycled rags can be purchased as bulk shop rags. The wholesale recycle shop rags will come in a pack of 100 to 500 pieces. The recycled wholesale shop towels are hemmed at the edges, which gives the rags a neat look. Wholesale Recycled colored rags in red shop rags, blue shop rags, and neutrals are also available in the market.
100% recycled cotton fabric makes the rags not heavyweight at all, which in return is also easy to work with. The mess gets cleaned up using these rags pretty efficiently.
Wholesale recycled shop towels can be used in professional as well as for personal use. These shop rags will keep you place adequately clean, and the environment will also be preserved. All in all, there is no such negative characteristics of recycled shop rags. Use them to capture the moisture and remove all kinds of stains that are hard to take off. Make those oily surfaces clean again.
Where to buy Wholesale Shop Rags
Automotive Shop Rags are used at the mechanics' shop. They are also in the size of 14 x14 inches. Automotive shop rags are made from durable 100% cotton material. Bulk Shop rags are purchased at retail rates. Automotive industrial shop rags are high in absorbing moisture and great for picking up oil and grease from the different car parts. They are not expensive and a great cleaning utensil to use.
Automotive shop rags are an excellent choice for repair shops. The amount of grit and oil is too much at the shop, and the need for cleaning the workplace and worker's hands is an activity being done the whole day. Automotive shop rags are perfect for the technicians working in the shop. It is handy, so the worker can always keep one for his personal use in the toolbox. The size of the automotive shop rags is a square, which is 14 inches, and sometimes it goes till 18 inches. The shop rags can be easily folded and rolled into a small cylinder for storage, storing shop towels will not take much space.
Automotive shop rags are recommended not to be washed in a machine. Machine cleaning the rags will wear them out much faster than expected. Wash the shop rags by soaking them in some warm water in a bucket. Rinse the rags a little in cold water and dry them up. Try not to use bleach on the automotive shop rags.