Wholesale Gym Towels
Gyms are necessary facilities in every neighborhood. Most people head there to workout, others to hang out. All that foot traffic means one thing – dirt and smell. Therefore, any gym deserves a high-quality towel that can be used to clean all the dirt as well as help clients mop up their sweat, making the facility germ-free. And that's where gym towels come in.
Benefits of Gym Towels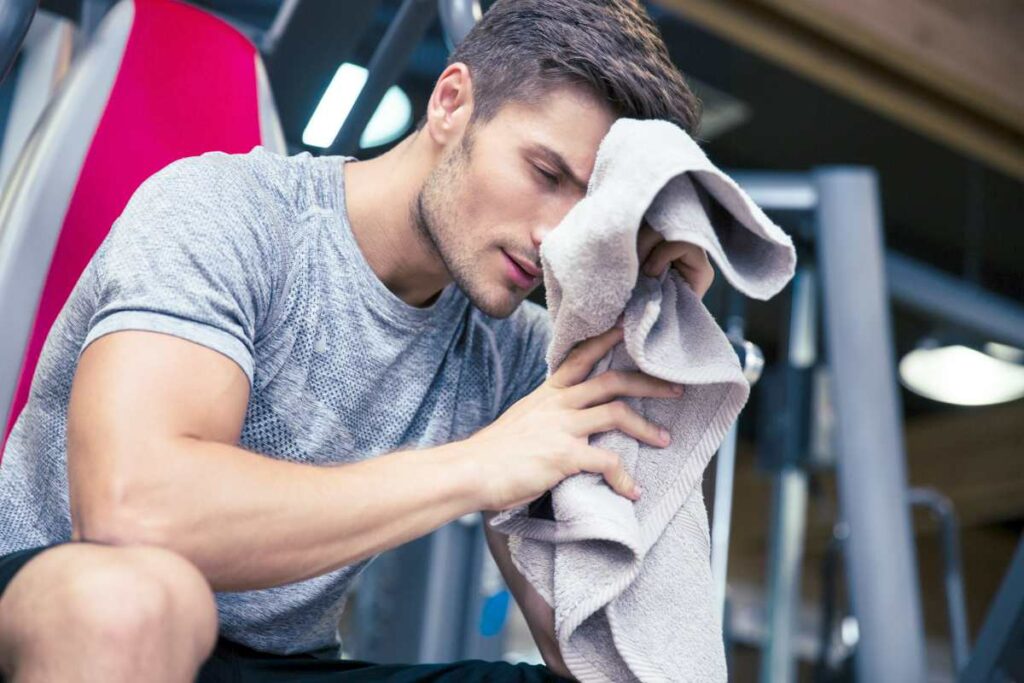 1. Ideal Size
Gym towels are small enough and, therefore, easy to carry around the facility. At the same time, they're large enough and, hence, effective in mopping up the sweat. With a wide range of sizes to choose from, you can select one that matches the nature of your facility. For instance, you may go for larger gym towels if your facility specializes in potentially-drenching workouts, such as HIIT. Other services, like swimming and showering, may also call for larger towels.
2. High-quality Material
Gym towels are designed in durable material, which is a significant consideration when shopping for these towels. You can use them between numerous workouts and wash them repeatedly without losing their allure.
3. Absorbency
Wholesale Gym towels are also designed to soak up a sweat quickly and dry up faster, enabling your clients to stay drier and healthier for longer. Therefore, you don't have to wash them frequently, which helps to keep the towel stronger.
4. Ease of Maintenance
Since they're constructed with durable material, wholesale gym towels can stand up to frequent washing. Not only are they machine-washable, but they also use up little detergent. That ultimately saves you time and money.
5. Fast Drying
As we already pointed out, bulk gym towels are designed in a material that makes them dry faster, which reduces the number of towels you need in the facility. Plus, their fast-drying feature also reduces the chances of mildew growth.
Why Should You Invest in High-quality Gym Towels
For most gym operators, wholesale gym towels fall within the miscellaneous category of items. That means they don't consider towels necessary for the daily operations of the facility. However, experts emphasize the importance of stocking up gym towels, and while you are at it, go for the very best. Few reasons why you'd want to invest in high-end towels for your gym.
Convenience and Image– Gym towels offer your clients much convenience in that they don't have to carry their own towels to the facility. That helps create an excellent impression with your patrons. Though it may not look like much, investing in high-quality towels will invariably lead to client retention while also drawing more clients to your business.
Comfort – High-quality, soft gym towels come with an extra layer of comfort. Investing in such towels will add a touch of luxury to your facility.
Cooling – Nearly all gym's workouts result in sweaty and heated bodies. Therefore, you require towels that not only soak up the sweat but ones that also create a cooling effect. That's particularly ideal for clients that don't intend to take a shower in your facility after their workouts.
Hygiene – A wholesale gym towels should be as clean and dry as possible. But you cannot realize that without quality towels. As your clients wipe the sweat off themselves, less sweat drips on the equipment and the floor. That makes your cleaning work easier.
Sanitation – Naturally, gyms are dirty and germ-filled facilities. Most of the germs result from many people touching the machines. Thankfully, you can use our wholesale gym bath towels to keep your facility germ-free. Your patrons will be able to wipe off sweat using these towels as opposed to their hands, thereby preventing the transmission of germs from their bodies to the equipment. They might also place the towels on the machines to serve as a buffer between their bodies and the germy surfaces.
Benefits of Buying Wholesale Gym Towels
The term wholesale is synonymous with well-established businesses. However, it doesn't matter the scale of your gym; you're better off investing in wholesale gym towels. Here's why;
1. It's Cheaper
Buying wholesale gym towels come with significantly reduced costs. Not only do you pay lower prices per towel, but you also get discounted rates depending on how many towels you purchase. Buying gym towels on a wholesale basis is especially recommended if you're restocking the entire facility
2. You Get Larger Quantities
Larger gym towels are relatively harder to come by. But when buying gym towels wholesale as opposed to at a retail store, it's easier to find the right sizes and quantities that match the nature of your gym.
3. Flexibility Guaranteed
Not only do cheap gym towels come in a broad array of sizes, but they're also available in various designs, materials, and colors. However, this is not the kind of flexibility you get when you shop for the towels at your local retail store. Remember, different areas within the facility will require unique types of towels. For instance, you might consider darker shade fabrics for wiping off the machines and brightly-colored towels for pool and shower use.
Features of Gym Towels
Contrary to popular perception, not all towels are the same. Wholesale Gym towels come with specific characteristics that make them exceptional. If you're thinking of getting towels for your facility, the following are some of the aspects you should consider.
Material
Material is an essential consideration when shopping for gym towels. That's because it influences nearly all the other elements, from absorbency to texture, washable, and durability. Most gym towels are made of either microfiber or cotton. Each material comes with its own perks.
Cotton gym towels are the most abundant. The material is characterized by its soft texture and relative absorbency. It's also easier to wash cotton towels repeatedly without them showing wear or losing their aesthetic appeal. What's more – cotton comes in other variants and blends. For instance, the cotton-polyester blend is famous for its elasticity, which makes the towels tear-resistant.
Microfiber gym towels also feature excellent absorbency. Besides, microfiber is a fast-drying material, which enables it to soak up maximum sweat before becoming saturated. Microfiber towels are mostly designed in fine fibers, which not only make them smooth but also lighter to carry and easier to fold.
Size
Gym towels are available in various sizes, and what you choose depends on the nature of the facility and the intended purpose. Larger towels are ideal for wiping large equipment as well as for use in pool areas and locker rooms. Smaller towels are suitable for wiping off sweat from the skin, hands, and of smaller surfaces.
Bleach Resistance
Gyms inevitably get sweaty, and too much sweat leads to staining. Many of these stains are deep-setting, and removing them will require that you use bleach while washing the towels. Therefore, your best choice is to go for color-safe, bleach-resistant towels. That will allow you to experiment with colorful fabrics and not just limit your options to dark-colored towels.
Absorbency
Absorbency influences how easy it is for your patrons to use the towels, as well as how frequently you'll change them. The general rule is that the thinner the towel, the less absorbent it is. Therefore, insist on towels with higher grams per square meter, or GSM. Such towels are reasonably thicker, hence more absorbent. While thinner towels are easier to carry, fold, and save much storage space, they're sadly not ideal in terms of absorbency. However, you can always balance these equally-important features when shopping for gym bath towels .
How Do You Care For Gym Towels?
Gym hand towels are mainly intended to wipe off sweat and reduce the spread of germs within the facility. For them to live up to that purpose, you must wash them as regularly as required. If you don't, the towels will get not only dirty but also smelly, unsightly, and so stained that cleaning them becomes a real hassle. You may often be tempted to reuse a towel to minimize the cost of washing them. 
However, you might be unknowingly spreading germs from one user to another. The last thing you'd want to deal with is an outbreak of cough or skin rash in your gym, which underscores the importance of washing every towel after use.
The following are more tips on how to care for your gym towels.
1. Designate an Area for Dirty Towels
Mixing used towels with unused ones can contaminate the clean ones. Therefore, set up specific bins where your patrons can drop their used towels. Also, empty the bins and wash the towels as frequently as you can. That way, you won't have to deal with mildew growth, set-in stains, or too smelly towels.
2. Wash in Smaller Loads
Loading huge piles of towels onto the washer may appear time- and cost-effective, but it certainly isn't. Insist on smaller loads as that enables all your towels to get clean, thereby preventing rewash. Besides, overloading the washing machine with athletic towels might rip the compact fibers in the towels, making them stiffer instead of softer. Bigger loads might also cause your washer to overwork and eventually break down.
3. Use Just Enough Detergent
Too much detergent doesn't necessarily equate to a faster or more efficient wash. Instead, the washer will take longer to rinse the towels, which goes against your very desire to save time. Also, excess detergent interferes with the absorbency of the towels and could cause your patrons' skin irritations, especially when used on the face.
4. Use Baking Soda
Baking soda is excellent at removing odors. Besides, it loosens the fibers, thereby keeping your towels soft and fluffy. Just ensure you don't use it in excess, as it may affect the absorbency of the towels.
5. Use Vinegar
Like baking soda, vinegar is another perfect smell remover. Also, it dissolves excess detergent and improves the absorbency of your towels, making them feel softer and smell fresher.
6. Add Bleach If Need Be
Bleach is effective with those set-in stains, so always add it if necessary. Of course, only use bleach for white and bleach-resistant towels.
7. Avoid Fabric Softeners
You want your gym towels to be as soft as possible, and one of the options you may think of is applying fabric softeners. However, these softeners interfere with the absorbency of the towels, so you should avoid them altogether. Instead, consider shopping for softer towels instead of introducing fabric softeners each time you're washing your gym towels.
8. Dry Towels Thoroughly After Every Wash
When done with the washing, allow ample time for your gym towels to dry up. That helps remove bad odors and prevent bacterial growth.
Why Buy Wholesale Gym Towels At Towel Depot?
If you're looking for a perfect wholesale place to shop for your next wholesale gym towels, look no further than Towel Depot. The main benefit of shopping for towels wholesale at Towel Depot is that you get variety in terms of the size of the towel, intended use, color variations, etc. The best part is that Towel Depot guarantees the quality of every towel you purchase.
Following are some of the options you get with Towel Depot;
Cotton – Cotton towels at Towel Depot are made of 100% traditional cotton. That way, you get maximum absorbency, softness, and durability.
Microfiber – Looking for wholesale lightweight, soft, machine-washable, and absorbent towels? Why not consider the microfiber towels at Towel Depot?
86/14 blend – With this category, you can enjoy the best of both worlds in terms of softness, durability, and stain-resistance. 86/14 blends feature 86% of cotton and 14% of polyester.
Bleach-resistant – Towel Depot also offers a vast collection of bleach-resistant towels. Buy wholesale bleach-resistant towels and save yourself the agony of subjecting your towels through longer wash cycles.
Economy – Economy gym bath towels at Towel Depot are ideal for gym operators who're looking for a fine blend of durability and cost-effectiveness.
Premium – If your facility entertains patrons that place so much premium on luxury, then your best bet is to go for Premium towels. With this category, you get to enjoy maximum durability and excellent absorbency.
Premium Plus – Considered the highest-quality category, Premium Plus towels are synonymous with comfort and convenience. These towels are pleasantly soft, fluffy, and also reasonably durable.
Size Options – We already highlighted the importance of shopping for gym towels of suitable sizes. At Towel Depot, you get limitless options as far as size goes.
We have washcloths that are relatively small cloths ideal for wiping small amounts of sweat. These 13 square inch towels are excellent for quicker and less-intense workouts, as well as wiping sweat off equipment.
Hand towels are another size option you get at Towel Depot. Hand towels generally measure 15 inches x 25 inches or 16 inches x 27 inches and soak up more sweat compared to washcloths. Most gym patrons use them to cover the seats on various gym machines.
Lastly, we have bath towels that are larger and ideal for use in pool areas and locker rooms. Typically, bath towels measure between 22 inches X 44 inches and 27 inches X 54 inches. You can even choose larger sizes depending on your needs.
Color – You don't need a color psychologist to remind you of the crucial role that colors play in our lives. When most people go shopping for gym towels, they're often keen on purchasing colors that hide as much stain as possible. However, you should also consider colors that are associated with positive energy. Not to mention, you should select colors that match the general ambiance of your facility or opt for versatile options if you aren't sure which colors suit your gym most.
Experts advise going for a broad collection of colors for your gym towels. That way, you can easily color-code the facility, which makes it easier to sort and restock the towels after washing them. Thankfully, gym towels by Towel Depot come in colors that cover the full spectrum.
Towel Depot – Your One-stop Solution for Gym Towels
Towel Depot offers a massive collection of gym towels, depending on the color, size, or material you desire. Towel Depot is also alive to the varying spending powers of their clients. Therefore, they offer gym towels that cater to the budget needs of each of their customers. Needless to mention, the wholesaler guarantees quality regardless of how cheap a towel costs.
If you've never given any thought to adding gym towels to your facility, now is the time to make that wise investment decision. And while you do, make Towel Depot your go-to supplier of gym towels.