Good Quality Resort Towels
When you go on vacation, the last thing you want to worry about is the quality of your resort beach towels. That's why it's important to invest in a good set of resort towels before your trip. Resort towels are an important part of any hotel or resort. They need to be absorbent and soft in order to provide the best possible experience for guests.
Reasons why you must invest in a good quality resort beach towel:
There is absolutely no best feeling in the world than enjoying soft, comfortable, and luxury quality resort beach towels when you are on a break or enjoying a short vacation trip in a resort. Soft and absorbent towels are everyone's weakness. 
People don't frequently purchase different categories of luxury resort beach towels. Some people prefer spending on luxury bath towels, whereas some prefer spending on a luxury hand towel.
Resorts have to continuously replenish their available supplies due to wear and tear issues. The high-ended resort always prefers investing in high-ended resort bath towels and high-ended resort hand towels. If you opt for a cheap towel for your resort, you will lose the plush body and your picked category towel's real comfy feel. 
It will eventually increase the restocking turnover, and you will spend more in the long run. Keeping your image at risk in front of your valued guest isn't a smart call.
If you seek the best quality resort beach towels, you must consider the key characteristics of premium quality towels to give your guest an exquisite experience. You must very critically evaluate your options and pay attention to the requirements, along with the available options. 
Resort Beach Towels Durable Composition: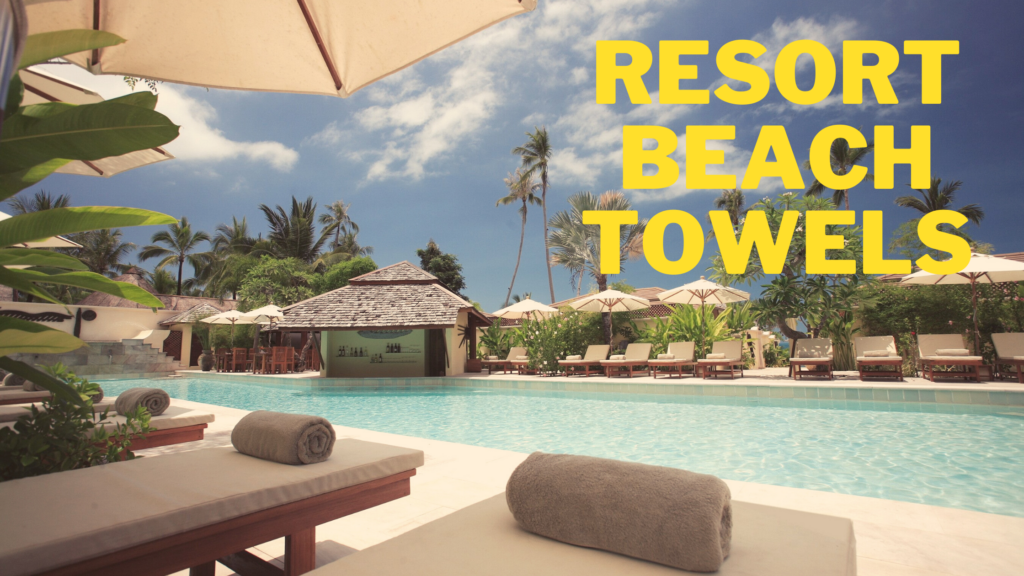 The high-ended luxury towel's main key aspect depends on its prime composition. Once the fibers are kept together, the machine starts creating loops; it sticks up with the base to give a finished classic towel texture.
The lower grades don't have a tightly bounded loop, but the high ended quality resort beach towels has ultimate dense loops. The firm and tight area of the surface gives the towel a robust look, and strong weaving makes the endurance possible through a series of wash cycles. 
Texture of resort beach towels 
There are so many varieties and diverse options available for you in the market. The material's composition is easily reconfigured into the yarn's fibers, and these compositions carry certain consistencies. 
Many people have sensitive skins, and you don't want to risk their experience. Close contact with low-quality material can cause skin allergies or even rashes on the face. 
Invest in greater value for money:
There are so many cost-effective alternatives available in the market as well. It is always advisable to invest in a high-quality towel, so it pays you off in the long run. The greater value of money is when your guest is satisfied with the quality of the towel you are providing them, and you are facing lesser wear and tear cycle after a series of washes.
Businesses are ready to invest in high-quality products to deliver their guests a premium quality experience with them. 
Why must you invest in high-quality resort beach towels?
High-quality towels are a little expensive, but what are the really important factors you must consider while making the purchase decision. The ultimate right choice and results are reflected when you see your happy and satisfied guests. 
If you have one satisfied customer, you are stepping into a chain to make other customers through your first satisfied customer. Instead of spending money on a new towel's repetitive buying cycle, it is better to make a one-time investment without risking the resort image or taking any chance towards delivering your guests an unpleasant experience.
A great investment:
To build a great image and establish a satisfying customer experience, you must not think twice before investing in a high-quality towel. The construction of such resort beach towels is very detailed and constructed, keeping guests' comfort in mind. Having a limp towel in your resort is the last thing you want your guest to experience.
The low-quality towel always ends up affecting or ruining the experience of your guest. After a continuous series of washes, the color fades out, the fabric loses its softness and smoothness and eventually turns out to be a very low-quality piece of cloth.
Highest Luxury High ended luxury resort beach towels:
Resorts are places people visit to enjoy the luxurious experience and relax. The premium quality resort beach towels are designed to deliver an excellent experience to your guests. Once your guest enjoys a comfortable and relaxed experience at your resort, they will always become a loyal client to you. A happy guest is all that keeps your business rolling.
You can use your creativity to create a high-end relaxing setting for your valued guests. You need to ensure the high-ended amenities such as a soft set of towels, including luxury resort hand towels resort bath towels, are available in your resort, and you don't disappoint your guests. You must ensure all the essentials are placed perfectly in the bathroom to avoid any last moment hassle for your guest or your team as well. The best practice is placing and hanging hand towels arranged or placed in the most accessible area.
Effective results are important:
The high-quality towel's best quality is that they are very highly absorbent; the amount of water the towel retains is different based on the material used for its composition. You must ensure delivering a significant fluffy experience to your guests.
The resort is the preferred place for people to relax and enjoy. When your guests use the hot towel right after the shower, the comfy feel is clean, and the premium quality towel delivers beyond explanation. 
Consistency is important
a significant amount of heat ends up affecting the towel quality. An extensive amount of heat ends up ribbing warps, and ultimately the towel ends up losing its smoothness, shape, and texture. However, high-ended towels are highly resilient to heat, and the dryer's heat doesn't affect the towel poorly. It is important to invest in a good quality towel as it is a tight weave. The composition of the ultimate durable hem doesn't stretch easily.
The best part about investing in premium quality towels for your resort is that they still lay flat even after the daily strain usage, having even lines. Practicing proper maintenance can maintain your resort towel in an excellent position for a longer period. The correct concentration of white vinegar and baking soda is the ultimate help you need to keep your towel clean and free from any dirt and blemish. Routine washing and maintaining the cycle of drying are also effortless. Storing the towels in a proper neat, and tidy place can help you have a completely spotless and wrinkle-free experience.
Conclusion: Resort towels need to be absorbent, soft, and durable in order to provide the best possible experience for guests. They come in a variety of colors and prices, so it is important to find the right set for your business.